Writing for Animated Television ONLINE Wednesdays 6-9pm PT/9pm-12am ET
Writing for Animated Television:
| | |
| --- | --- |
| Prerequisites | None |
| Scheduled | ONLINE Wednesdays 6-9pm PT/9pm-12am ET |
| Start Date | Jan 5, 2022, 6:00pm |
| Price | $450 |
| Class Size | 8 students |
| Sessions | 8 sessions, 3 hours each |
WRITING FOR ANIMATED TELEVISION with Matt Price

There are more animated shows on TV than ever before, including ground-breaking series like "Rick & Morty," "Bojack Horseman" and "Steven Universe." In this class, we'll work on many different aspects of animation writing, including fleshing out fully-realized animated characters and universes, creating detailed episode outlines, and focusing on the differences between writing for animation and live-action. Throughout the eight weeks, we'll use all of these tools to develop your own animated show, and in our last session, you will pitch your show to the class.

Important note - you do not need to know to how to draw for this class. This class will help develop your skills and voice as a writer in animation. If you can draw, that's great, but we won't be working on that (mainly because I can't draw). Students will have weekly deadlines and should be prepared to devote time outside of class to writing and rewriting assignments for every session.
Students should have access to a computer and stable, robust internet access, webcam & microphone.
There is work outside of class, preparing sketches for presentation in every class and viewing sketch videos. This online course uses Google Classroom and Google Meet programs to conduct live sessions with your instructor and fellow students.
Please check to see if you have the compatibility requirements for utilizing these
programs before registering:
https://support.google.com/meet/answer/7317473?hl=en
NOTE THIS CLASS MEETS ON PACIFIC STANDARD TIME (PST)
To join the online class email list for new classes, special events and discounts visit: eepurl.com/hbKC05
Matt Price, teacher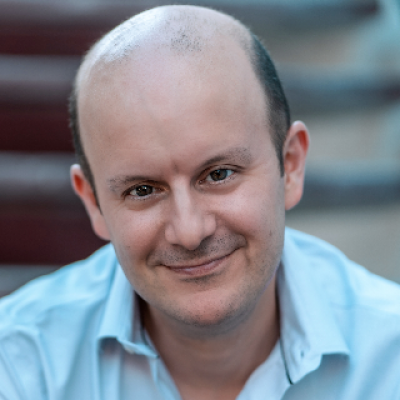 Matt Price is a writer and actor from Evanston, IL. He wrote for all eight seasons of the critically-acclaimed Regular Show on the Cartoon Network, becoming head writer in season four. During his time on Regular Show, Matt was nominated for six Emmy awards, winning in 2012. While at the Cartoon Network, he also worked on We Bare Bears and helped in the development of several shows including Apple & Onion. Matt most recently wrote on Final Space for Adult Swim, as well as Close Enough which premieres on HBOMax in 2020.

As an actor, some of Matt's favorite on-screen appearances include The Office, Arrested Development, Transparent, and Men of a Certain Age.

Matt has performed in many shows at UCB including ASSSCAT, The Jersey Shore Recap Party and his own storytelling show Four Stories and a Cover in which…wait for it…four people would tell stories and a musician would sing a cover.

Matt lives in L.A. with his wife and daughter, and he loves to discuss the whereabouts of the best donuts in town.
Registration Unavailable
Why can't I register?
Schedule